The direct booking evolution
Nowadays, with so many options out there for guests to choose from, competing for customers online is harder than ever. The growth of bookings on OTAs and the subsequent commissions charged is an ever-present challenge for any hotelier.
Given the vast number of third-party booking sites, it is critical for hotels to work towards maintaining the right balance between receiving reservations from their distribution platforms, and direct bookings. Hotels must equip themselves with the right solutions and marketing tactics to compete with OTAs and draw customers back.
Online Travel Agencies (OTAs) are often the first channel that comes to mind when thinking about hotel online distribution. There are, however, a whole multitude of other channels available and as the market continues to evolve with new options emerging almost daily, convincing online visitors to book on your hotel's website has never been more important than it is today.
Is your potential guest going to search for a hotel where your property is located? Are they going to choose to stay at your hotel, given the thousands of options out there? And if they do decide on your hotel, are they going to complete their booking directly on your website or via a third party?
As the hotel search decision-making process becomes increasingly complex, improving your hotel's online presence becomes even more critical in order to engage with more visitors and move them down the online booking funnel.
To achieve a strong digital identity, you need to rely not only on your own website instead to create a balanced distribution mix using online channels such as:
OTAs
Metasearch sites
Wholesalers
Global Distribution Systems (GDS)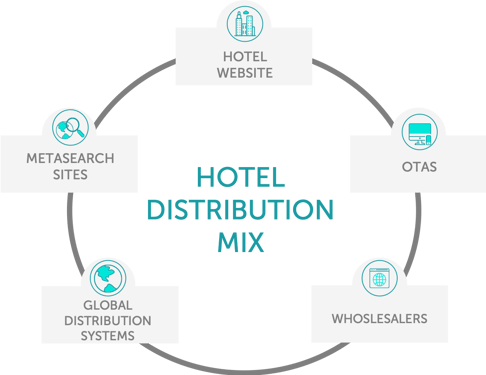 The vast majority of hoteliers rely heavily on OTAs when attempting to grow their digital presence, as these platforms have become the most recurrent source where visitors book accommodation. In fact, 52% of US millennials prefer to book their hotel on an OTA while only 39% of them use an OTA when purchasing an airline ticket.
Expedia and Booking.com (Priceline) are the two most popular OTAs. These companies have experienced what many hoteliers consider to be an alarming growth over the past years, doubling their marketing expenses in only 4 years - from 2014 to 2018. As consequence, their market share in Europe and the US increased by more than 20 points between 2013 and 2017.
US Hotel Gross Bookings by Online Travel Agencies with Hotel Websites/Apps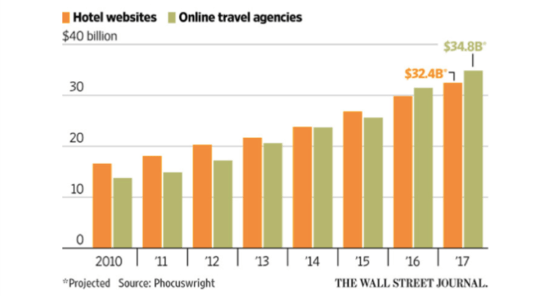 Adding OTAs as part of your online distribution channel has clear advantages such as your rates being displayed on a user-friendly website, extensive marketing efforts to give your hotel worldwide visibility, and a commission model based on conversions rather than clicks. The key however is knowing how to adapt to the emerging trends and find the right balance between third parties and direct bookings.
Why you should not be over reliant on OTAs
While at a first glance OTAs seem to be the perfect option when promoting your property, all that glitters is not gold. When thinking about your optimal online channel mix, you should take into consideration the following factors related to OTAs: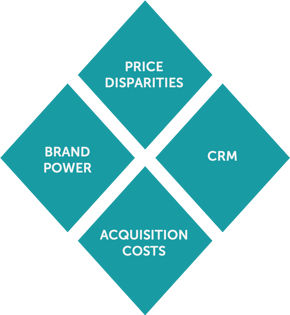 Price disparities
There is often a clause in the legal agreement between hotels and OTAs related to pricing policy which toughens up the competition between OTAs and your hotel. Rate parity is the formal agreement between hotels and OTAs that prevents disparities in rates across all platforms regardless of the distribution channel. Seeing as that room rates are frequently changing It is not uncommon for OTAs to act more competitively for bookings and decrease the rates that they offer which has an impact on hotel direct bookings. In recent years legislation is changing so as to decrease the control that large OTAs have and while the specific terms of each rate parity agreement vary depending on the country and parties involved, there are two broad categories: wide rate parity and narrow rate parity.
Brand power
OTAs invest heavily in marketing to drive high volumes of traffic to their website. This obviously generates visibility for the hotels listed within each destination but it primarily reinforces their own brand awareness, helping them to become the first site users visit when searching for accommodation. This trend is clearly visible when looking at traffc volume statistics. In recent years, there has been a significant rise in the volume of searches on OTAs sites while a decrease on the websites of the major hotel chains. This leads to a growing problem: potential customers are more aware of the existence of OTAs rather than your own hotel brand.
When thinking about the brand war, there's another risk to take into consideration. Chances are that OTAs are bidding on your hotel brand's keywords on Google so they can drive qualified traffic to their website at your expense. With your potential guests located around the globe, it is increasingly difficult and time-consuming to protect your brand online. This is why developing a clear strategy is a must to limit who bids on your hotel brand.
CRM
When a visitor books a room through an OTA, you do not have full access to the guest's information. This is because the guests are booking through a third party which means the OTA will have all their source information and behavior analytics. This makes it impossible to develop a full understanding of your customer profiles and so therefore more complicated to create an effective marketing strategy geared towards those guests.
Acquisition Costs
The commissions OTAs charge are based on the bookings generated, and these vary depending on the contract established. Usually, small hotels are the ones who are charged higher rates, as these properties have a weak brand identity and a huge dependency on OTAs. While at the beginning of 2010 OTAs' commissions were around 5 to 10%, these have progressively increased reaching up to 30%, costs that can lead you to have very low margins despite achieving high occupancy levels.
However, getting direct bookings is not as simple or cheap as it seems. There are costs associated to traffic acquisition: search engines, metasearch, and social media among others. These sites usually charge a cost per click which is independent of the conversions generated, running the risk of an outrageous cost per acquisition if the user experience is not optimized. This is why focusing on optimizing the user experience for guests on your hotel website is key. Improving your website conversion rate will help drive acquisition costs down and allow you to grow your direct booking channel.
➠ Check out our free guide: "Selling your last available room"
Direct bookings vs OTAs: finding the right balance
Hotel revenue managers should take into consideration all distribution channels when developing a distribution strategy, as each of them, used in its right measure, is advantageous for your hotel.
As stated before, the two most important booking sources are OTAs and Direct Bookings and so, in order to find the right balance, you should take into consideration a series of parameters:
Guest persona: who your target audience is. You need to adapt your distribution strategy based on your potential clients' booking preferences as they are the ones who are going to complete the reservation.
Geographic coverage: which markets you want to reach. There are some channels like OTAs that enable international visibility as they generate traffic worldwide. Their website is also in several languages, which can be particularly useful if your website is not available in the languages of your potential guests.
Hotel Occupancy: the percentage of available rooms sold at your hotel. Based on the season and your objectives, you can choose when and where to display your rooms and rates, for example blocking out dates on OTAs during high occupancy.
Database: your guests' information such as demographics, purchasing behavior and buying preferences. Depending on how important your client database is for your strategy, there are some third parties where you won't receive the customer's information, not even their e-mail.
Volume: number of visitors your hotel receives. You must be aware that there can be very profitable channels that do not bring the volume you expect, or vice versa.
Marketing efforts: campaigns and activities to promote your hotel's services. OTAs and other channels carry out effective marketing strategies to promote the properties they list. This can be particularly helpful for hotels without a dedicated marketing team to carry out their own campaigns .
According to a Cornell University study, 3 out of 4 people who book on the hotel's website have previously checked out the hotel on an OTA. This is known as the "billboard effect": hotels benefiting from the indirect publicity thanks to their presence on OTAs and Metasearch websites, resulting in an increase in bookings.
While most specialists consider that the billboard effect is positive for hotels, others believe that it is not advantageous anymore due to the increase in OTA commissions and the change in consumer behavior. In the US market, it is expected that in 2020 OTAs will have 41% of the market share, while in 2014 these sites had a only 35%.
7 ways to increase your hotel's direct bookings
Working efficiently across all channels is key in driving more direct bookings. There is not a unique successful channel mix, therefore it is important to test out different options and find the one that better suits your hotel and objectives. When trying to grow your direct booking channel, there are many techniques that can be used to optimize your performance:
1. Make sure your potential clients find your hotel
Besides OTAs, there are many ways to increase your visibility online such as:
Google Hotel Ads
Paid Search
Retargeting
Social Networks
Videos
Meta Search
Blog
Email Marketing
When planning your strategy to drive traffic to your hotel website, you should take into consideration the advantages and disadvantages of each channel and then test the most relevant ones to see which adapts best to your situation and goal.
2. Build an easy-to-use website
Most guests book on OTAs because of the smooth user experience, as booking a room is a simple three-step process. Having a fast and responsive website with a clear booking process will enhance the user experience and make it easy for users to find what they are looking for whilst avoiding any confusion during the booking journey. A must-do in modern times.
3. Provide a personalized user experience
When looking for accommodation, a user visits several hotel websites before completing the purchase. Having a website that stands out and welcomes each user in a unique and personalized way has become crucial in order to entice website visitors down the booking funnel.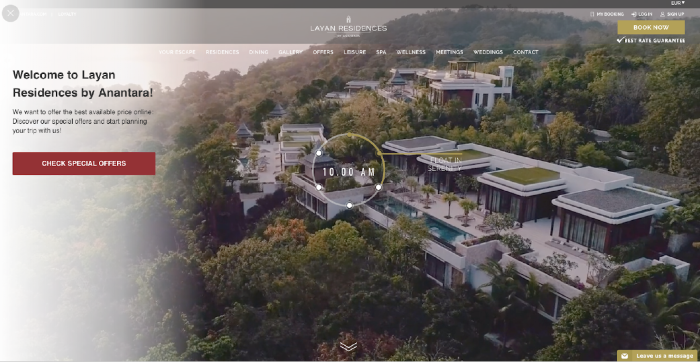 Predictive personalization is key in order to nudge website visitors towards a booking by personalizing the user experience for each visitor with the strongest messaging and offer. By automatically segmenting users in real-time based on their behavior, it enables hotels to show the most engaging and relevant content for each guest.
➠ Read more about Predictive Personalization
4. Offer attractive prices and perks
Price is one of the most important factors in the purchase decision. Therefore, showcasing on your website that you offer the best available rate is key to inspire trust and reassure potential guests that they are making the right choice by booking direct.
Nevertheless, price is sometimes not enough to nudge online users towards booking. Tilt the scales in your favor by highlighting the benefits of booking direct such as free perks. Common incentives that hotels offer are: free WiFi, a welcome drink, complimentary spa entrance, alternative activities and experiences, late check-out and free additional night if you book X nights. Being creative with the perks offered and communicating them effectively on your website can turn incentives in a powerful way to get guests to book direct.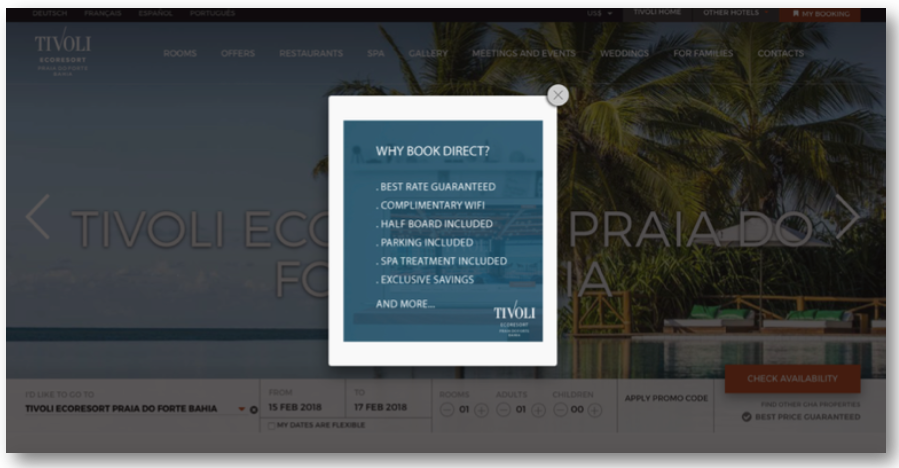 5. Create benefits for loyal guests
There is a huge difference between the acquisition costs of a new customer and those who you have already built direct a relationship with. Therefore, creating long-term loyalty with your guests is of the utmost importance. Loyalty programs, often offering appealing advantages and discounts to members, can be an effective way to get guests to book direct as well as motivating them to come back. These programs are more applicable to larger chains with properties in multiple destinations rather than independent hotels. Without creating an entire program, it is possible for independent hotels to identify returning guests on their website and offer them a special rate or perks.
6. Inspire trust with a strong digital identity
Gaining a visitor's trust is essential to keep travel shoppers on your site, for who would stay at a hotel that does not inspire confidence? Focusing some of your marketing efforts in building online reputation is key in order to guarantee that guests know and trust your brand. What's more, pulling user-generated content and reviews into your website is a great way to reassures visitors they are staying at an excellent hotel.
➠ See how reviews can leverage trust to your hotel
7. Create a sense of urgency
There's nothing quite like the fear of missing out on a deal to get people to snap into action. Special offers along with a countdown clock are a great combination in order to create a sense of urgency and compel visitors to book now. Flash sales are also a golden opportunity to increase your direct bookings, especially during dates when you expect to have low occupancy.
➠ Check out our free guide: "How to leverage special dates on your hotel website"
Successful hotel direct booking strategies
The Hotels Network is a software solution that helps hotel brands boost their website conversions. Read real case studies explaining how hotels are winning back their direct bookings by using the latest technology and most effective techniques to convert lookers to bookers.