As you navigate the road to recovery, keeping your website user experience relevant and personalized to encourage your online visitors to book directly with you will be key. Now more than ever, you will need to build your marketing strategies around customer communication and engagement.
Here are some examples of tactics that have been effective for our hotel clients:
1.
Reassure Visitors
When an unexpected event such as an outbreak hits, there is nothing more important than to keep guests informed and reassured. Take advantage of the
opportunity to build trust with your visitors by publishing up-to-date messages on your website,
notifying visitors of any measures you are taking
. In the case of operational changes, keep visitors informed immediately and
ensure they know that the action was taken in their best interest and that a
solution for current guests has been prepared.
Guests must feel that their safety is
always your priority.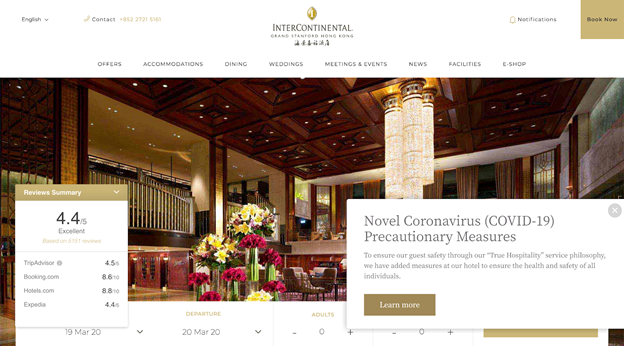 Welcome layer communicating precautionary measures
2.
Offer Flexible Cancellation Policies
It may be tempting to cut rates and offer discounts in a desperate attempt to grab the attention of what's left of the potential guest pool. However, drastically cutting rates could be counterproductive and even harder to recover from in the long run. It may be more suitable to adopt a customer-centric approach, relaxing cancellation policies and offering re-booking solutions.
Consider offering a flexible cancellation policy so that you remove the feeling of risk for guests and use a Layer to let them know that direct bookings are 100% refundable. If your market is shut down today, focus your efforts on advance bookings to minimize the impact on your booking volume for stays later in the year.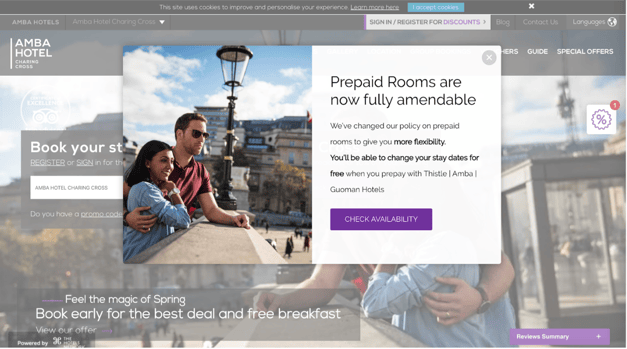 Welcome layer highlighting flexible dates
3. Seek out Domestic Market Opportunities
Intent to travel internationally has drastically decreased due to concerns over long-distance travel and imposed travel restrictions. If your international market is limited, it may make sense to turn to your domestic market as it will most likely recover faster than international tourism. There are many opportunities to explore, be it local travelers or business meetings. Seek out those opportunities and think about what you can do to appeal to local guests. You could start by using geo-targeting to display personalized messages to users from your own country or city. Create tailored promotions around hotel stays but also the services you offer to diversify your sources of revenue.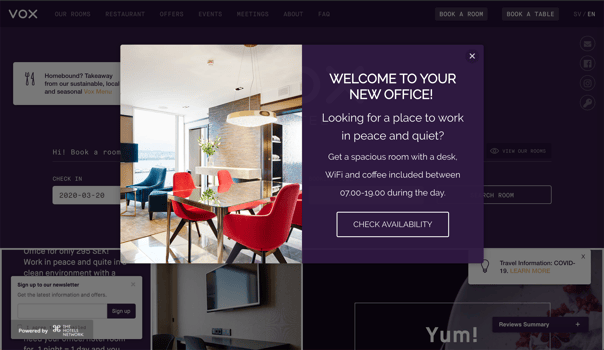 Welcome layer targeting local visitors
Now more than ever is the time to take charge and define a mindful direct booking strategy to take advantage of every opportunity available, setting yourself in the right position to return stronger than before. We've prepared a hotel strategies guide with a whole series of examples from our hotel clients. We hope you find the ideas useful to help you optimize your direct channel during these difficult times and beyond.