While at Club Quarters, Michael aimed to grow brand contribution while shifting the post-pandemic target business segment to younger local leisure travelers. He also transformed marketing organizations by implementing and optimizing e-commerce and digital capabilities for diverse global businesses, including Starwood, Accenture, Monster Worldwide, and Wyndham.

His awards include the Platinum Adrian Award for an innovative social media campaign, the Gold Adrian Award for an innovative website, and 40 under 40 from the Westchester Business Council. Most recently, he was selected by HSMAI as a Top 25 Extraordinary Minds in Sales, Marketing, and Revenue Optimization in 2020.
He volunteers his time as a member of the HSMAI Marketing Advisory Board and as the VP of Membership for the NYC HSMAI chapter. He provides business strategy, branding, digital marketing, and e-commerce support to non-profit CEOs through the Taproot Foundation. He also actively mentors undergraduate students through the University of Michigan mentorship program.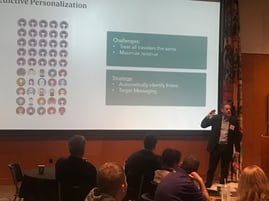 Michael holds a BA in Literature from the University of Michigan, an MA in Business Communications from Northwestern University, a certificate in Digital Marketing from Northwestern's Kellogg School of Management, and a certificate in the Economics of Blockchain and Digital Assets from the University of Pennsylvania's Wharton School. He is currently a Program Leader for the Product Data Strategy and Analytics program at Northwestern's Kellogg School of Management. He is a Six Sigma Greenbelt, Scrum Master, certified PMI Project Manager, and a CHDM/CRME from HSMAI.
Here are a few of Michael's recent ebooks: